Who ever heard of a polar vortex or frost quakes? Not me. That is until we ended up in a deep freeze this week.
With temperatures hovering at -20 degrees Celsius, -40 with the wind chill, I thought I would share some of my stay inside- stay warm strategies.
1. Cashmere - There is nothing warmer than a cashmere sweater or/AND a cashmere throw. Light, yet incredible toasty, cashmere is a necessity for cold winter weather.
Restoration Hardware has a great selection of luxurious throws on sale. Regularly $249.00, they are now reduced to $149.00. Great time to treat yourself.
My feet are always cold so I usually wear shearling slippers but these cashmere ones would be lovely and soft.
Layering a cashmere wrap or scarf protects against drafts. I often wear a larger wrap draped around my shoulders to stay cozy. Recently I have had my eye on this infinity one from RH.
There is nothing worse than getting into a cold bed on a winter night. How about a cashmere covered hot water bottle to warm things up? ( Although I don't have one, I did stay at hotel in Seattle and on a cold, damp evening, turn down service included a hot water bottle between the sheets. It was a heavenly touch I still remember.)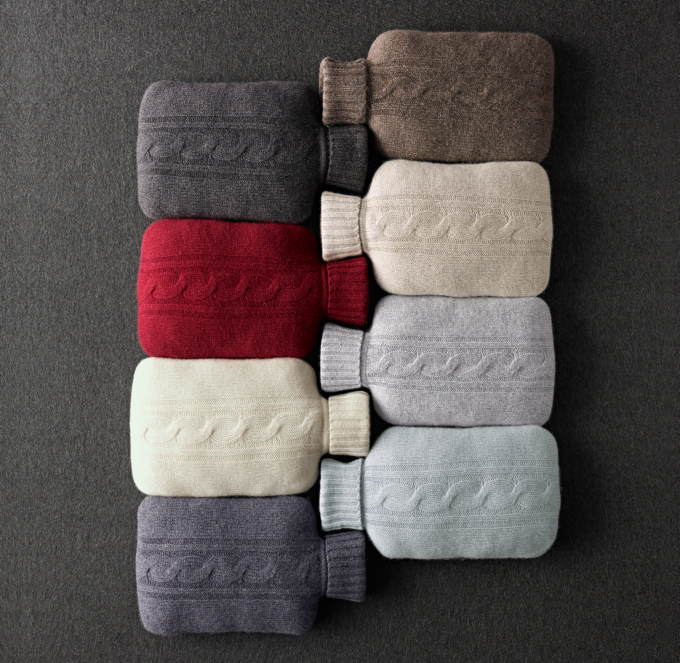 An affordable luxury at $29.99
2. A Hot Drink - My favourite hot drink is a London Fog Tea from Starbucks. Earl grey tea, frothed hot milk and a shot of vanilla make a delicious warming drink. I bought some vanilla syrup so I can make it at home. It's easy to do: fill a mug half way with milk and microwave until hot. Froth milk until foamy. Prepare a pot of earl grey tea. Add tea to frothed milk and top with vanilla syrup. Enjoy and keep warm!
3. A Beautiful Fire - My chair is situated right beside our gas fireplace and that's where you will find me when the weather is cold.
So when the temperate drops and the ground shakes due to a frost quake, you will find me sitting by the fire, drinking a London Fog tea wrapped in a sumptuous cashmere blanket.
Stay warm!