The good thing about the arrival of February is that it means January is over and we have one month of winter behind us. However with the snow still falling and with at least 15 inches of the fluffy white stuff on the ground, winter looks like it is here to stay!
February is a perfect month to stay inside and keep warm. I like to use these next 4 weeks to get a few things done. Here's a peek at what's on my list.
1. Create a Photo Book
With lots of photos stored on my computer, ipad and phone, I no longer print my favourite images. The pictures I have printed and on display are older ones - ones I still love. But I would like to enjoy some more recent memories and so I am going to create a photo book
online
. It will be dedicated to the happenings of 2014. This will be the start of an annual book of photos. I have made a few books in the past using
Picaboo
but there are so many photo book sites to choose from. (Here's a
LINK
comparing the top 10 books.) And if you are an Instagram user, check out
chatbooks.com
where you can create a mini ( 6x6") book instantly.
2. Try New Recipes
Here are a few of the recipes I am looking forward to cooking.
Yum - these dishes look good!
3.Organize Kitchen Cupboards
Oh how I would love my kitchen cupboards to look like this.
4. Prepare Freezer Meals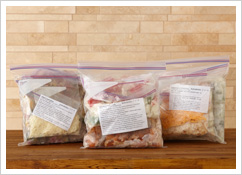 From Pampered Chef
Gathering some girls together to prepare 8- 10 freezer meals is a fun way to cook for your family and catch up with fiends. I plan to host 2 Freezer Meal workshops this month and fill my freezer with delicious dinners for my family. ( Email me at laurieblaha@laurieloves.com if you are interested in coming!)
5. Binge Watch the new Season of House of Cards on Netflix
Season 3 will be released on Netflix Feb 27th so this will be a great end-of-the-month activity. I have been waiting a year for this.
This should keep me busy and help the 'February Freeze' go by faster. Before you know it, we will be thinking about Spring.